Membership
Info
Membership Info
Your membership dues help us purchase and provide water and Gatorade on our weekly runs, fund special Club events, pay for our insurance, and other club expenses.
Membership Levels
Member Benefits
Application for Membership
Membership Renewal
Cancellation
---
There are four (4) levels of membership. Each level is one-year membership, renewable in October, annually. Each member must sign the waiver prior to joining the club for insurance reasons.
Single Member....$25
Single Adult, 18 years old or older.
Partner Members....$40
Single plus spouse or significant other.
Junior Member....$15
Minor between the ages of 15 and 18, sponsored by an Adult Member.
Family....$50
Parent(s) with one or more children. Children must be between the ages of 12 and 18 years old.
---
Aside from running with like-minded individuals (about running that is), you will receive discounts as local merchants. A list of participating merchants can be obtained from a club officer. Other benefits include notification of races and special events geared to runners.
---
When you apply, your application will be reviewed and you may be contacted. We like to ensure each member's expectations are known and accommodated to the best of our ability. As with other clubs, you will be asked to sign the following release/waiver before joining:
I know that running with and volunteering to work at events of the Sparta Runners Club, Inc., a New Jersey nonprofit corporation (the "Club"), is potentially hazardous. I understand that I should not enter into or run in Club events unless I am medically able and properly trained to do so. I am voluntarily assuming all risks associated with running and working at Club events, including but not limited to, falls, contact with participants, spectators or others, the effects of the weather, high heat or humidity, the condition of any road, trail or course, all such risks being known and appreciated by me. Having read this Release and Waiver and knowing these facts, and in consideration of membership in the Club and permission to participate in Club events, I for myself and anyone entitled to act on my behalf, knowingly agree to waive, indemnify and release the Club, the Road Runners Club of America, and all of their respective sponsors, affiliates, representatives, agents, directors, officers, trustees and successors, of and from all claims, actions, rights, damages, costs, expenses, judgments, demands and liabilities of any kind whatsoever in law or equity, arising out of any loss, damage or injury (including death) that may be sustained by me during or arising from my participation in any Club activities, even if such liability arises out of the negligence of any person or entity named in this waiver.
---
Membership is renewed each year in October. If you joined the club after July 1, you will not be charged the renewal fee for the following year. Subsequent years will be renewed at the normal membership fee.
---
We understand that events and circumstances often cause the need to cancel membership. Please notify the club in writing (mail or e-mail). Your contact information will be removed from our membership roles. You are welcome to rejoin at a later date if you wish. Unfortunately, your membership fee is non-refundable.
Membership Application
Fun stuff with the club: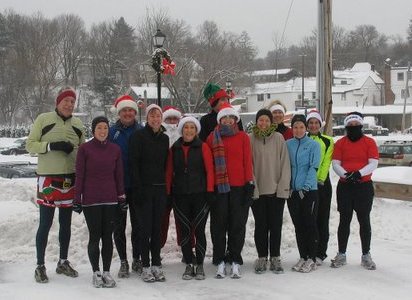 Jingle Bell Run 'Round the Lake '08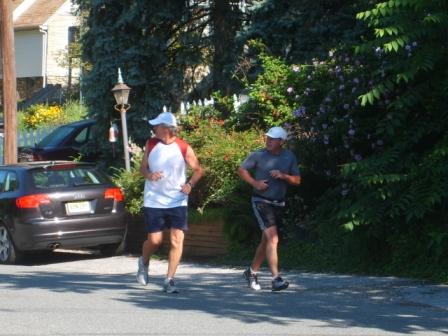 Dave & Bill making sure they are not Last!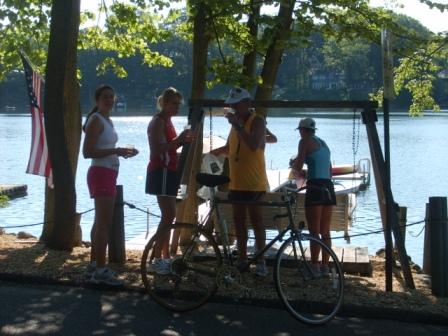 Taking a break by Judy's Swing