Charity
Running For Others - Charity Page
Here are some charities the Sparta Runners Club Members are raising funds for by running or other activities. Please support our members in their efforts! Thank you!
Current Projects
Hey! Anyone running for a Charity????? Let Val know!
---
Past Endeavors
What: Miles For Miracles - The Children's Hospital Boston
Where: 114th Boston Marathon, Boston, MA
When: April 19, 2010
Who: Val Lalor
Funds Raised: >$1,330.00
Why: Thank you VERY much to all those who donated to the Children's Hospital - you made the race so vey special for me and the kids! Please enjoy the race report!
Link: Val's Race Report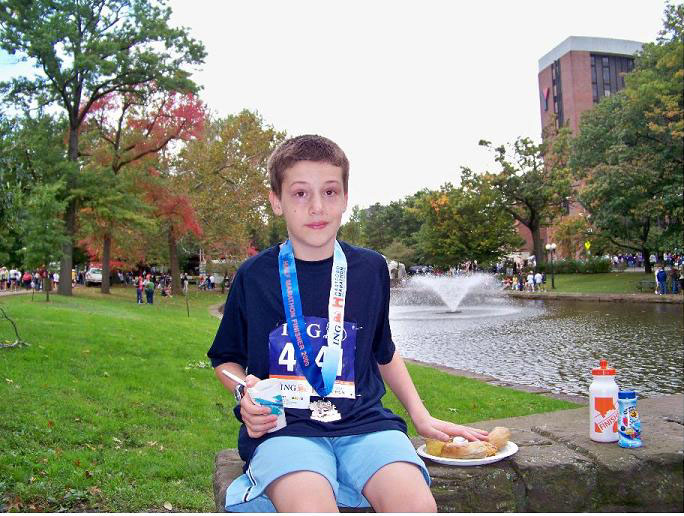 Ian enjoying post-race food wearing his father's marathon medals
What: Team TSA - Tourette Syndrome Association
Where: Hartford Half-Marathon
When: October 10, 2009
Who: Ian Garrison (son of member Sarah)
Funds Raised: ~$1,400.00
Why: Ian is a thirteen-year-old who is living with Tourette Syndrome. He wanted to raise money for research and awareness for this disease. An amazing feet for a teenager - raising that amount as well as running a half-marathon! Congratulations Ian!
Link: Tourette Syndrome Association
What: Tour de Cure - American Diabetes Association
Where: Basking Ridge, NJ
When: Summer 2009
Who: David Malpiedi
Funds Raised: $650.00
Why: Dave put together a team from BD of about 16 riders. The distances varied rider to rider; Dave did 78 miles - the furthest he had ever pedaled on one day! With good weather, everyone had a great time. As many athletes beginner to advanced know, you can't participate in an event without one lesson learned. For Dave, it was energy replacement. He was having a great time pedaling along, got swept up in the fun, and did not follow his 250 calories/hour intake plan. At 48 miles or so, he starts to really hurt. Luckily he was riding along side of a teammate who was unaware of his impending doom and just kept talking and talking and talking. Her conversation was a great distraction which enabled Dave to make it to the 54 mile rest stop where he "began stuffing my face with everything I could get my hands on." He was then able to get back on the bike and finish in great shape. Good job, Dave!
Link: Tour de Cure Page
Attention Runners!
HEY RUNNERS!
Are you running for a charity?
Let us know and we'll post
your info here.
The Charity/Event, date of event, your fund raising goal amount, how to donate, deadlines, etc. and a little note on why you are raising funds for the cause. A photo would be a nice touch, too!